ACFE MERCHANDISE
Executive Padfolio
Description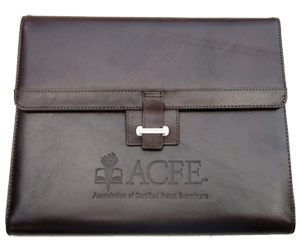 Impress on your next investigation with the Executive Padfolio. Featuring the ACFE logo imprinted into a 100% top grain Cutter & Buck leather padfolio, the Executive Padfolio is a classy way to carry your important notes and documents wherever you go.
Ordering and Returns
Satisfaction Guarantee
If you are not 100% satisfied with any ACFE product, you may return it to us, provided it is in excellent condition, for a full refund of the item minus the cost of shipping. Toolkits and bundles may only be returned as a complete set.
Ordering & Returns Policy