Prep Course
2022 CFE Exam Prep Course®
2022 CFE Exam Prep Course
Description
The CFE Exam Prep Course® provides the most effective training available to prepare you for the CFE Exam. Designed with the busy anti-fraud professional in mind, the Prep Course gives you the flexibility you need to prepare for the CFE Exam on your schedule. With its included study questions and practice exams, the Prep Course will help you prepare to pass the rigorous CFE Exam.
Effective CFE Exam Preparation
In this course, you can:
Review important concepts covered in the CFE Exam with nearly 1,400 study questions.
Read more about topics you need to review in further detail with the included Fraud Examiners Manual (two-year subscription to the online Fraud Examiners Manual and a Fraud Examiners Manual downloadable PDF).
Stay on track to earn your CFE credential by measuring your progress toward your target dates for certification and using helpful checklists within the Prep Course.
Use Your Study Time Efficiently
The Prep Course streamlines CFE Exam preparation. Use your time more efficiently by focusing on the areas you need to study the most.
The Prep Course enables you to:
Create a personalized study plan tailored to your individual strengths and weaknesses with an optional 100-question Pre-Assessment.
Pick the sections and topics most relevant to your exam preparation by creating custom review sessions.
Learn more from your practice exam results by reviewing the questions you missed, analyzing your results by subsection and tracking your progress over time.
Focus on the areas where you need the most work, reviewing your results and progress by exam section, subsection and topic.
CFE Exam Prep Course (Download)
System Requirements:
Processor: 2 GHz processor
RAM: 1 GB Ram
Operating System: Windows 7, Windows 8.1, Windows 10 - Important: Running Windows through virtualization (Parallels, VMWare Fusion, etc.) is not permitted
.NET Framework 4.7.2
Disk space: 150MB of available disk space
Display: Color display running at 1024x768 minimum (1280x1024 recommended)
Internet: An internet connection is required for product activation and upon completion of the Prep Course
Download Requirements:
150MB hard drive space
Internet Explorer 5.0 or higher
Internet connection
Frequently Asked Questions
Which Format Should I Choose?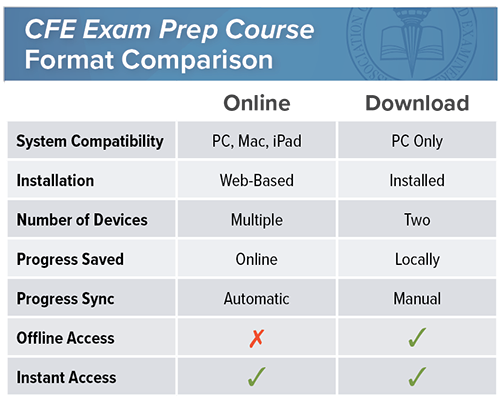 Are you preparing for the CFE Exam on a Mac, a computer using a virtual version of Windows or an iPad?
Yes: Choose the online format of the Prep Course. It is compatible with Apple computers and computers running a virtual version of Windows.
No: You may choose online or download.

Will you have a reliable, high-speed internet connection?
Yes: If you have a reliable, high-speed internet connection and you are not planning to study offline, choose the online version of the Prep Course.
No: If you do not have a reliable internet connection or would like to work on the Prep Course when you are not connected to the internet, choose the download format. Please note that the download format requires the ability to install software on your computer. Installing on a work computer may require assistance from your organization's IT staff.
Ordering and Returns
Satisfaction Guarantee
If you are not 100% satisfied with any ACFE product, you may return it to us, provided it is in excellent condition, for a full refund of the item minus the cost of shipping. Toolkits and bundles may only be returned as a complete set.
Ordering & Returns Policy