Bruce Dorris, J.D., CFE, CPA
President and CEO
Association of Certified Fraud Examiners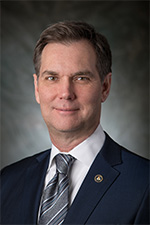 Bruce Dorris is the President and Chief Executive Officer for the Association of Certified Fraud Examiners (ACFE). He also serves as an advisory member to the ACFE Board of Regents. Dorris has conducted anti-fraud training for the United Nations, the American Bankers Association, colleges and universities around the world, as well as with the FBI, GAO and other federal and state law enforcement agencies in the U.S.
His expertise has been featured in interviews with the CNBC's "American Greed," The Wall Street Journal, the BBC, and The Atlantic among others.
Dorris earned his Juris Doctor from the Paul M. Hebert Law Center at Louisiana State University in 1993 and is licensed to practice law in state and federal courts in Texas and Louisiana. Prior to joining the ACFE, he served as a prosecutor in Louisiana for 13 years, focusing primarily on financial crime investigations. Additionally, he is also licensed as a Certified Public Accountant.
Dorris has been with the ACFE for 13 years, previously serving as Vice President and Program Director.